Hipertiroidismo: control preciso, en cada paso del camino
Creemos que la información contenida aquí muestra como, con pequeños pasos controlados, puede hacerse un avance gigante para restablecer el equilibrio natural en el gato hipertiroideo.
Hipotiroidismo iatrogénico
El hipotiroidismo iatrogénico es una posible resultado de todas las opciones de tratamiento para el hipertiroidismo felino. En un estudio reciente de 75 gatos con hipertirodismo tratados con medicación anti-tiroidea sola o en combinación con tiroidectomía quirúrgica, 28 (37%) fueron detectados con hipotiroidismo.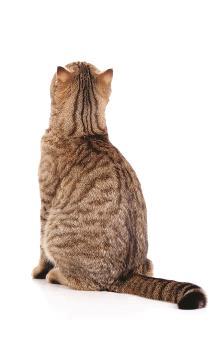 ¿Qué implicaciones tiene el hipotiroidismo iatrogénico?
La azotemia fue significativamente más probable en gatos hipotiroideos:
16/28 (57%) gatos hipotiroideos estaban azotémicos
14/47 (30%) gatos eutiroideos estaban azotémicos
Esta investigación pone de relieve la importancia de evitar el hipotiroidismo iatrogénico, ya que los gatos que tenían hipotiroidismo y azotemia tuvieron tiempos de supervivencia media significativamente más cortos:
456 días para los gatos hipotiroideos azotémicos
905 días para los gatos hipotiroideos no-azotémicos
Afortunadamente, las investigaciones más recientes del Royal Veterinary College sugieren que la restauración del eutiroidismo (por ajuste de dosis de la medicación anti-tiroidea) en gatos con hipotiroidismo iatrogénico mejora la función renal.
La monitorización regular es vital para asegurar que si aparece el hipotiroidismo, va a ser detectado de forma temprana. En estos casos, la dosis de Felimazole debe reducirse en la menor medida posible para restablecer el eutiroidismo y devolver la concentración de T4 total a la mita inferior del intervalo de referencia.
Una nueva investigación revela actitudes de los propietarios
New research published in the Journal of Feline Medicine and Surgery3 into the attitudes of owners of hyperthyroid cats has challenged some of our industry's preconceived ideas.
Sarah Caney BVSc PhD DSAM (Feline) MRCVS comenta "El estudio ha demostrado que los propietarios de gatos no son una barrera para la prescripción de la medicación dos veces al día. Su principal motivación es proporcionar el mejor nivel de cuidados que pueden. Desde una perspectiva de propietario, el medicamento anti-tiroideo ideal ofrece dosis bajas y una variedad de estrategias de dosificación que asegure que cada gato recibe la dosis individualizada que necesita y no más ".
Manejo de dosis
Dos presentaciones – 2,5 mg y 5 mg
Dosis inicial de 5 mg al día repartida en dos tomas de 2,5 mg.
Si por razones de cumplimiento terapéutico, es preferible la dosificación una vez al día con un comprimido de 5 mg, entonces esto es aceptable.*
El objetivo es emplear la menor dosis posible para conseguir y mantener el eutiroidismo.
Con las dos presentaciones son posibles múltiples combinaciones de dosis
Detailed recommendations can be found in the Felimazole Treatment and Monitoring Flowchart
1 Williams, T.L. et al (2010) Journal of Veterinary Internal Medicine 24: 1086-1092
2 Williams, T.L. et al (2012) Journal of Veterinary Internal Medicine 26: 753-754
3 Caney, S.M.A. (2013) Journal of Feline Medicine and Surgery 15(6): 494–502
* La administración del comprimido de 2,5 mg dos veces al día puede ser más eficaz en el corto plazo.