Dermatitis por Malassezia
Malassezia pachydermatis y Staphylococcus pseudintermedius están presentes sempre en la piel normal del perro. Sin embargo, cuando hay una supresión del sistema inmune y/o la barrera epidermal es alterada, ocurre el sobre-crecimiento microbiano. Esto deriva en una infección oportunista, como Dermatitis por Malassezia.1

Existe también una interacción entre Malassezia pachydermatis y Staphylococcus pseudintermedius, en la que ambos incrementan en número.2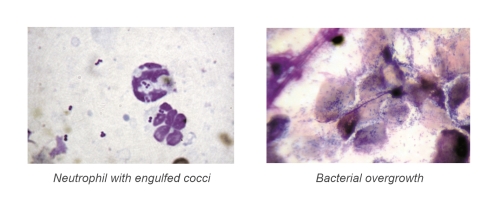 1. Nuttall T. Malassezia dermatitis. In: BSAVA Manual of Canine and Feline Dermatology 3rd Edition, BSAVA 2012; 198-205
2. Miller W.H., Griffin C.E., Campbell K.L. Malassezia dermatitis. In: Muller and Kirk's Small Animal Dermatology 7th Edition, Elsevier 2013; 243-249
Lower images copyright Ariane Neuber DrMedVet CertVD Dip ECVD MRCVS
¿Qué causa la dermatitis por Malassezia?
Una gran variedad de condiciones pueden causar el sobre-crecimiento oportunista, incluso la predisposición racial, un sistema inmune comprometido o una alteración de la barrera de la piel.3

3. Nuttall T (2012) Malassezia dermatitis BSAVA Manual of canine and feline dermatology. 3rd edition, 198-205.
Images copyright Sue Paterson MA VetMB DVD DipECVD MRCVS
Consecuencias
La dermatitis por Malassezia en perros puede ser localizada o generalizada. Las áreas comúnmente afectadas incluyen la cara (canal auditivo y piel perioral), axilas, cuello ventral y miembros distales (espacio interdigital y uñas).
Los signos clínicos son variables y pueden ser:
Prurito en grado medio a severo
Eritema
Exudado grasoso y oloroso
Alopecia
En casos generales, un olor fuerte y rancio es comúnmente reportado. Malassezia puede considerarse en cualquier caso como dermatitis pruriginosa4.

4. Nuttall T Malassezia dermatitis. In: BSAVA Manual of Canine and Feline Dermatology 3rd Edition, BSAVA 2012; 198-205.
Images copyright Sue Paterson MA VetMB DVD DipECVD MRCVS
Diagnóstico
Observación directa de los microorganismos en conteos elevados en la piel lesionada. Combinado con:
"Una buena historia clínica y citológica con respuesta apropiada a terapia antifungal" 5
5. Negre A. et al (2009) Evidence-based veterinary dermatology: a systematic review of interventions for Malassezia dermatitis in dogs. Vet Dermatol 20: 1-12
Images copyright Dermcare-Vet Australia and Ariane Neuber DrMedVet CertVD Dip ECVD MRCVS
Mantenimiento
Salud básica de la piel y trastornos subyacentes
La piel es el órgano más grande del cuerpo. Con su alta renovación celular y rango metabólico, obviamente requiere un aporte suficiente de nutrientes para mantener su estructura funcional y saludable.
Trastornos subyacentes
Muchas enfermedades pueden derivar en problemas de piel e infecciones, con un buen conocimiento de nutrición como parte importante del manejo de estos problemas en perros y gatos.
Alergia al alimento necesita el uso de una dieta hipoalergénica basada en ingredientes hidrolizados.
Pacientes atópicos pueden beneficiarse de los altos niveles de Omega 3 ácidos grasos para dar soporte nutricional. Los ácidos grasos esenciales pueden mejorar considerablemente una barrera lipídica comprometida.
Desórdenes Endócrinos como síndrome de Cushing e hipotiroidismo canino con frecuencia tienen complicaciones dermatológicas que pueden beneficiarse con manejo nutricional.

Restauración de la piel comprometida
La recuperación de cualquier tipo de compromiso en la condición de la barrera de la piel requerirá un soporte extra nutricional como ácidos grasos esenciales, zinc, selenio, vitamina E y complejo B. Las dietas que ofrecen niveles elevados de estos nutrientes pueden contribuir exitosamente en la recuperación de la piel y el pelaje.
7. Baddaky-Taugbøl B et al. A randomised, controlled, double-blinded, multicentre study on the efficacy of a diet rich in fish oil and borage oil in the control of canine atopic dermatitis (2005).